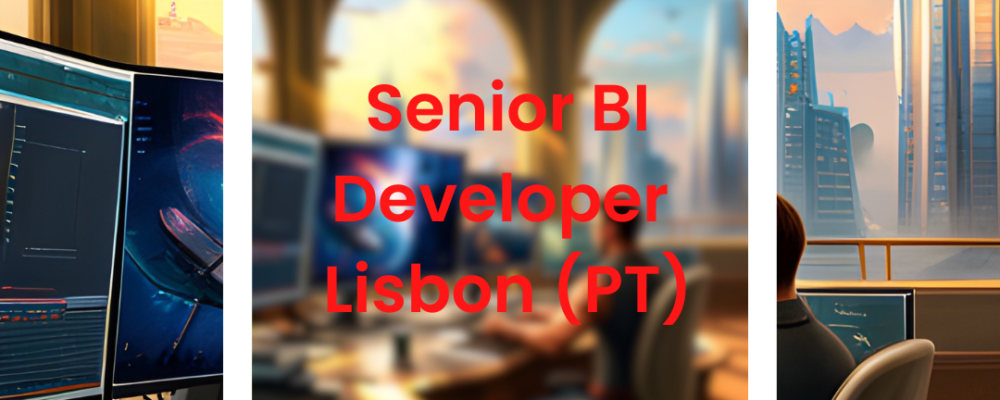 Senior BI Developer in Lisbon (PT) - EN - Hybrid
Van Ameyde Systems is a young, ambitious and professional IT service provider. Van Ameyde Systems provides services in the field of IT consultancy, application development and implementation and the management of IT infrastructure. Van Ameyde Systems is part of the Van Ameyde Group. Van Ameyde Group has 1,500 employees in 28 countries and is specialized in international claims and risk management. They support customers from the insurance industry throughout Europe. This means that as a full-service agency, it offers all conceivable damage-related services, including in sourcing the entire damage process (claims management), risk analysis and valuation. Within the Van Ameyde Group, Van Ameyde Systems is responsible for all IT processes and offers innovative services through, for example, the use of innovative AI technologies. With growing international teams of Technology specialists in Rijswijk, Lisbon and Tallinn, Van Ameyde Systems develops and deploys core Technology solutions for the Van Ameyde companies and external customers. Serving more than 1,000 customers in 64 countries with deep, local insurance expertise, efficient BPO services and a robust set of innovative IT solutions tailor-made for the insurance industry. Every day people rely on our Technology solutions to handle claims efficiently, to provide support to those who are injured, to carry out on site damage inspections on, for example, ships and to do this in a secure and compliant way.
CONCURRERENDE USP'S/SAMENVATTING
We began as an internal IT department. Our 'customers' are predominantly colleagues from other Van Ameyde entities across Europe and APAC. This is changing as we now also service external customers, which accounts for approximately 40% of our current business and this part is growing fast. At Van Ameyde Systems, you will work with the latest software and make a genuine difference in the lives of our 'customers'. For example, automating the claim handling process for earthquake victims so that their claims are paid more quickly.
The Data & Reporting team is a centralized team consisting of a talented and experienced group of engineers and analysts who are dedicated to making a significant impact on the organization. Currently consisting of engineers based in Lisbon, Portugal and analysts in Rijswijk, The Netherlands our team will grow further as we add more data products and extend our reach within the company. Our team is responsible for providing essential reporting and insights that drive data-driven decision making across the organization. We take pride in our ability to develop and operate various data platforms that cater to different source applications. As part of this team, you will have the opportunity to work on new capabilities, while also focusing on re-designing and improving our existing platforms to enhance their efficiency and effectiveness. Additionally, with your contributions the team evolves to applying a more consultative approach towards our business stakeholders, in which we advise and inspire them to adopt best data and analytical approaches to their business challenges.
IDEALE KANDIDAAT
Relevant working experience in insurance, banking or other large complex business is considered a plus
MUST
5+ years of professional experience
SQL
ETL
SSRS
SSIS
SSAS
Data Migration
Data Integration
Data Warehousing
Data mart
Bachelor Data Science (BSc)
Bachelor Computer Science (BSc)
PREFERABLE HARD SKILLS
Agile
Scrum
Analytic solutions
Master Computer Science (MSc)
Master's Degree
Portuguese
Dutch
German
French
PREFERABLE SOFT SKILLS
Flexible
independent
innovative
proactive
and highly responsible towards team and tasks
Result-focused and decisive in decision-making situations
Strong communication and social skills
(INDUSTRY) EXPERIENCES
Minimum 5 years of experience as a BI Developer
€38.880 – €42.768
€3.000 - €3.300 brutosalaris
Vakantiegeld: 8%
Voordelen
€0 opleidingsbudget per maand
No, pension
Laptop
Extra's
• Educational budget: 40 hours per year and the certifications needed for the job
• Health insurance for employee and the children. Would the employee add the partner as well, then its 50/50 employer/ employee
• Birthday day off on top your entitled regular annual leave
Dagen op kantoor: 1 / Thuis: 4
Geen visa sponsorship mogelijk
Short communication lines, a no-nonsense attitude, and an informal atmosphere characterize the corporate culture. Van Ameyde Systems is headquartered in Rijswijk and has offices in Lisbon, Porto and Tallinn as well. The company employs approximately 65 people. We work in an international, entrepreneurial environment with plenty of room to develop and grow. We enjoy working with the latest technologies and innovative IT concepts, and we welcome new ideas. We enjoy a tough and complex problem to solve as a team. The atmosphere at Van Ameyde Systems is characterized by a strong team spirit. You are valued for your contributions, not your job title. If you show your added value within Van Ameyde, you can organize your career and daily tasks according to your own preferences and ambitions. We are proud to say that Van Ameyde is a place where people are approachable, open and friendly, and will help you with any issues you may encounter. You will have the flexibility and trust to choose how best to tackle and solve problems. We reward people for taking action without having to be directed. At Van Ameyde we work hard, and we know how to celebrate too. We welcome you in a people-centric culture with a can-do attitude and result-driven mindset. Our core strengths are: • People-centric approach; • Friendly and open work culture; • Result-driven mindset and can-do mentality; • Dynamic work & learning environment; • European market leader with a lot of technical expertise and high quality of service; • Focus on innovation and sustainability.